Best Home Gym Equipment of 2021
With COVID-19 infection rate numbers climbing every single week, many recreational activities will remain closed such as movie theatres, bars, restaurants and gyms. We know how important gyms are for many people. Many rely on gyms to train and stay fit, as well as feeling happy and healthy. Since your local gyms are mostly likely closed, home workouts are the only thing you can resort to. Yes you can improvise with attaching groceries to a broomstick, but it just isn't the same. If you are a fitness enthusiast, you know that just relying on bodyweight exercises isn't going to cut it. That is why we here at My Gym USA, suggest that you start investing in your own home gyms. To help you stay happy and healthy, we've compiled together our favorite list of home gym equipment that are small budget and small space friendly tools!
Cardiovascular (cardio) exercise helps improve many risk factors for heart disease. It lowers blood pressure, maintains weight loss, and makes the heart stronger and more efficient so it can deliver more blood to the muscles. Going on walks or runs outside is a great way to train your cardio. However, certain elements prohibit you from going outside such as the weather and temperature. We recommend placing these bad boys in your own home to prevent yourself from skipping out cardio day!
NordicTrack Commercial 2950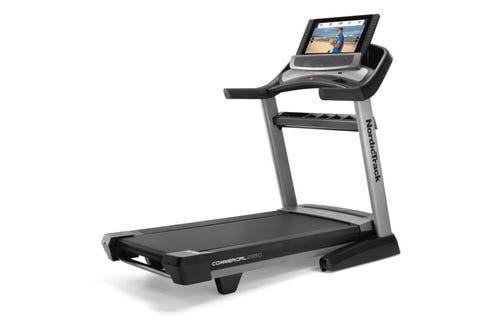 Get lost in your own basement with this NordicTrack Commercial 2950 Treadmill. Intuitive controls let you get you started without any non-sense! Bluetooth speakers and a secure device holder let you work out with your fitness classes, music and entertainment. Ultra-quiet 2.5 CHP motor recalibrates with every footfall with no lags or surges. It also features a 55" deck with shock-absorbing 3-zone cushioning that will support walking, jogging or running.
Peloton Bike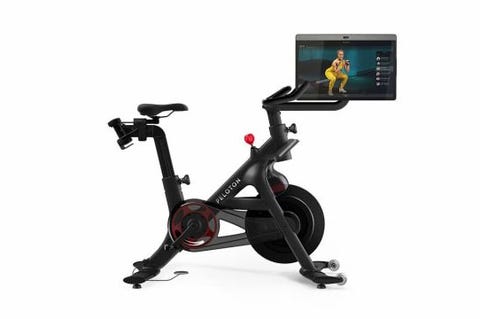 If running isn't for you, we recommend cycling! Cycling is low-impact exercise that does not put as much stress on your joints like running would, and is the most effective way to build cardio capacity, speed, and endurance without risking injury. This Peloton stationary bike is a great choice because it eliminates the back-and-forth rocking of a real bike. The new auto-follow feature adjusts and matches the trainer-prescribed resistance throughout the ride, which lets you focus more on each interval and takes away any temptation to not dial up the resistance for a hill. It also features a 23.8-inch screen that can keep you entertained on your biking adventure!
Strength training goes a long way in terms of supporting bone health, making aerobic exercise more productive, preventing injury, and facilitating healthy aging. Strength training is important for losing fat and gaining muscle. You'll increase the percentage of fat in your body if you don't do anything to replace the lean muscle you lose over time. Strength training can help you preserve and enhance your muscle mass at any age. Here are some products to make you stronger!
4 in 1 Doorway Trainer 
One of the hardest muscle groups to target in a home setting is lats or back. Get the Dorito shaped body you want with this 4-in-1 Doorway Trainer. Great workout equipment is all about combining stability, versatility, and lasting impact. Throw in easy installation and storage, and you have a recipe for some serious gains. It hooks on to any doorway, and is safe and secure. The best part is, you can target the small individual back muscles by adjusting your grip on the bar. That's why this pull up bar is essential! Get our trusted 4 in 1 doorway trainer here. 
Fitness resistance band
Here is one of my favorite workout tools. What is so great about resistance bands is the versatility and functionality. It can be used in so many different ways and is suitable for any level of fitness. Our Fitness resistance band can be used for stretching, body weight exercises and even for yoga! It is super space efficient and is easy to set up. You can google resistance bands exercises and you will get hundreds of different exercises targeting the whole body! Get our trusted resistance band here.
Heavy duty Adjustable dumbbells
Dumbbells are a must have in any serious gym. Dumbbells are functional and can be incorporated in many exercises. Want to work on the chest? Do dumbbell chest flies. Want to work on your back? Do upright rows. Want to work on arms? You can do bicep curls, skull crushers and even shoulder raises. You get the point, the possibilities are endless. Our heavy duty adjustable dumbbell set does this job better than any other dumbbell. You can add or remove weights according to your strength and difficulty of the exercises.  Get our trusted heavy duty adjustable dumbbell set here. 
As brutal as core exercises are, they are good posture, stability and balance. The core is at the center of your body, it encompasses your abs, hips, back, and chest. Your core stabilizes your body, allowing you to move in any direction as well as having proper balance. Of course, abs are also important for a chiseled physique.
Trideer Extra Thick Exercise Ball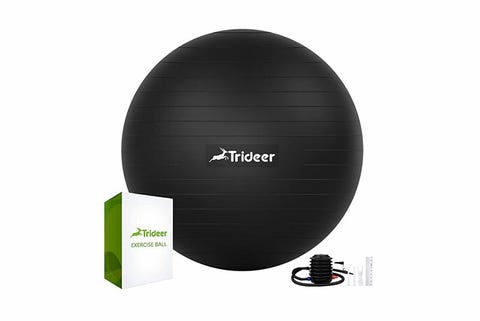 A beginner friendly product for beginners is the exercise balls. Use this ball to enhance exercises targeted to strengthen the core such as elevated planks and crunches. Better balance and stability lead to better performances. Plus, if you're working from home, you can swap out your office chair for this ball to keep your core engaged throughout the day. The Trideer Extra Thick Exercise Ball is great for durability and reliability.
Abdominal ab roller
A harder exercise for core is using the ab roller. Our ab roller is designed with a smooth wheel, for functionality and stability. It is strong and sturdy in design, for gym or home use to strengthen and tone abs, shoulder, arms, back and upper body development. It also comes with comfortable non-slip Foam grips for stability control. If you want the extra challenge, this is the product for you. Get our trusted abdominal ab roller here. 
After every workout or intense exercise, it is important to let your body recover and heal. Recovery allows for improved performance, permits time for our body to heal itself in preparation for the next training load, and decreases the risk of potential injury. We have two special products that we recommend you start using right away!
Deep tissue massager
Like a traditional massage, the massage gun aims to reduce inflammation by flushing extracellular fluids such as lymph fluid and venous blood out of the muscle tissue and into the circulatory system. It can help relax tight muscles, break up scar tissue and adhesions, and minimize muscle soreness and tension. We recommend using the deep tissue massager as it is the best massage gun for its price. It comes with multiple fitted heads that target different muscle groups and has a longer lasting battery! Get your deep muscle massager here.
Lululemon The Reversible Mat 5mm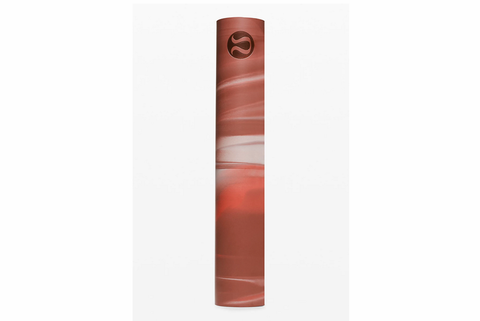 Regular yoga practice creates mental clarity and calmness; increases body awareness; relieves chronic stress patterns; relaxes the mind; centers attention; and sharpens concentration. Even if you aren't using this for yoga, use it as a mat for your daily stretching. Stretching keeps the muscles flexible, strong, and healthy, and we need that flexibility to maintain a range of motion in the joints. Great for athletes as it prevents injuries! This lululemon yoga mat is durable, grippy and forgiving on sensitive joints.
So what are you waiting for? Get a few products from this list and you will be looking forward to working out and exercising daily. You will get in shape, feeling good and staying healthy. If these products don't call out to you, that's absolutely fine! You can come check out our website to browse other products or read more about our other blogs! Click here. 
---